BLACK FRIDAY SALE THRU 11/27!
Spend $25+ (before tax) and receive 20% off & FREE SHIPPING on your entire order! ALL items in the shop!
Shop Healing Crystals and Other Unique Finds
SHOP NOW
New Items in the Shop for November
Trending Now: Top 10 Items in the Shop!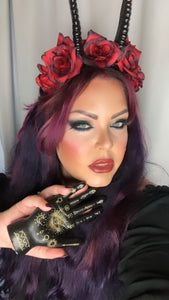 Welcome to Mystical Rose Gems!
Hello, and welcome to my unique little online shop--full of items that the modern witch or crystal enthusiast will love! My name is Krista Robyn, and I have created a shop where you can find items that fit your unique lifestyle.

I am a dog mom in the Bay Area in sunny California, and I wanted to finally live out my dream of having my own crystal and unique treasure store!
Take a look around! If there is something that you don't see here, please drop me an email - mysticalrosegems@gmail.com and I will see what I can do!
SHOP NOW